We are a loving community helping people find new life in Christ




Whether you're seeking a new church home or just looking for a new beginning, we invite you to come. Come with your doubts, your problems, your fears and your questions.  You'll be loved and accepted by our warm, caring and supportive church family.
At Life Line we have a desire to be a help and encouragement to those around us and our deepest desire is to offer hope by helping people develop real, meaningful relationships with God through the redeeming blood of Jesus Christ!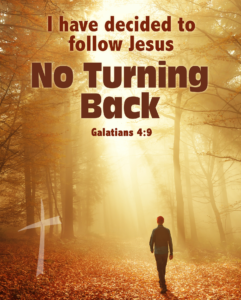 Our theme for 2021 is "No Turning Back," focusing on Galatians 4:9. I presented three proclamations to guide our obedience. No Regressions: I am not turning myself back to the life of a servant, when God calls me a son. No Restraints: I am not tying myself down to a system of worship and rules that focuses on man and what he can do. No Rituals: I am not trusting in myself to win the approval and acceptance of God. As Christians, we reject legalism because we believe that salvation is provided by grace through faith in Christ Jesus; yet, we often appear to practice legalism: We strive to earn God's love and favor; we think ourselves more spiritual than others because of our gifting and service; and we tie our righteousness to our standards. Furthermore, we value rules over a relationship with Christ; we are full of production but lack power; we institute superficial standards without a submitted heart; and we constrain the flesh without ever changing the heart. I have made my clear choice: I have decided to follow Jesus, No Turning Back!  ~ Pastor Tim Lindsey

OUR BELIEFS
We believe in God the Father, God the Son who is Jesus Christ, and God the Holy Spirit.  We believe in the death, burial, resurrection, and ascension of Christ.
We believe in Christ's second coming, the Day of Judgement, and salvation of the faithful.
WORSHIP WITH US
Join us Sundays at 10:30am as we share the truth of God's love, redemption, and mercy!
OUR MISSIONS
Here at Life Line Baptist Church our mission is to spread the gospel throughout the world.   We do this through our local and international mission projects. This ranges from meeting needs right here in our backyard to sending financial support and supplies to missionaries all across the world.
BIBLE STUDY
"For there is one God, and one mediator between God and men, the man Christ Jesus; (1 Timothy 2:5)" Does this Jesus love me? Can I know for sure? How do I have a relationship with this one who bridges the gap to God?
BOOK OF 1ST TIMOTHY
For answers to these questions, call on us anytime and please join us each Wednesday at 10:00am or 7:00pm as we explore the book of 1st Timothy!